Providers of Europe's leading External Wall Insulation
designed for Irish Weather
Soltherm External Wall Insulation, available through Solfit is the best way to improve your BER rating drastically increasing the thermal efficiency of your home and as a result, significantly reducing your home energy costs.
Our solutions will improve the appearance of your home while retaining all of your current internal floor space and are applied with minimum disruption. Find out more.

Heating bills reduced by up to 40%


Increased weather resistance

Self-cleaning effect by rainfall


Grants Available
Save up to
€6,000
with the Better Energy Home Grant.
Speak with our expert team
Get in touch to find out more about our products.
Call us today
to start saving your money.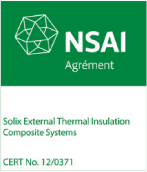 Solfit cares deeply about the satisfaction of our customers and is committed to providing the highest quality product, the best technical support and exceptional service every time. Our partnership approach is to assist our customers from the specification process right through to contractor selection, product application and completion of the works to ensure a perfect result every time.